Outdoor Kitchen Cabinetry Is the Investment Worth Spending Time Outdoors?
Outdoor kitchen cabinetry may seem extravagant but with all the options available now you might be surprised to find an outdoor kitchen within your budget. To determine your needs answer the questions below.
1. Do you find yourself living outdoors in the warm months?
2. Perhaps your summer diet consists of anything that can be grilled.
3. Is the view outside much better than that on the inside?
4. Do you already have an outdoor pool and spend alot of time around it?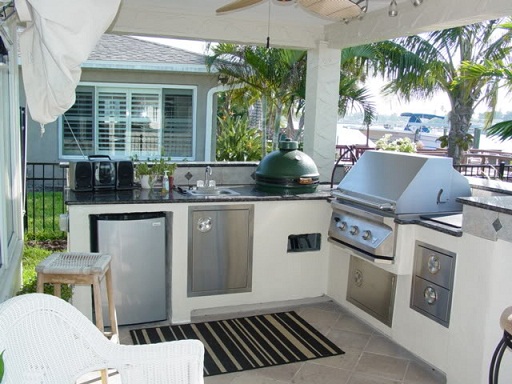 If this sounds like you an outdoor kitchen may be a welcomed addition to your patio. The advantages of an outdoor kitchen are many including the fact that outdoor kitchen cabinetry increases your property value substantially. So it's a little easier to swallow the costs associated with the major renovation.

But what exactly do you do first? Plan where to place your outdoor kitchen. Do you already have a pool deck? That would be a great place since the cement foundation has already been poured. Adding an elaborate outdoor kitchen to a wood deck is not possible since the excessive weight of the kitchen cannot be supported. Next determine if you will be building a roof over your kitchen, although it's not required it is a welcome addition if the rain spoils your grilling fun. The best place for starting with the layout is your cooking station or grill. Then go from there when planning the eating space and cabinetry.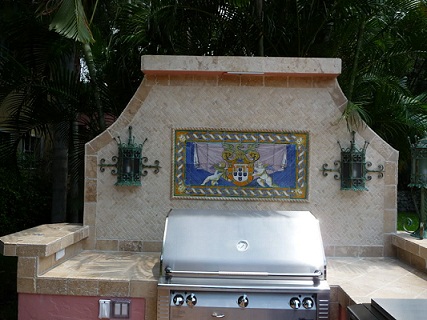 Outdoor Kitchen Cabinetry: Outdoor Cooking and Prep
Do you plan to incorporate a refrigerator, sink and cabinets? If not make sure your space is fairly close to the (inside) kitchen door to eliminate further steps back and forth lugging food out after it has been prepped. One thing to keep in mind with outdoor cabinetry is to be generous with counter top space on both sides of the grill. There is nothing worse than preparing food on the grill and not having ample counter space to set it. Outdoor kitchens can be elaborate and include multiple appliances or simple. Expect to spend at least $3000 on a simple outdoor kitchen which requires indoor prepping. The sky is the limit on pricing for high end outdoor kitchens.
Some popular brands are Atlantis Outdoor Cabinetry options and Thermador Outdoor Cabinetry.