Let's compare kitchen faucets: Rate wall mounted, pullout kitchen faucets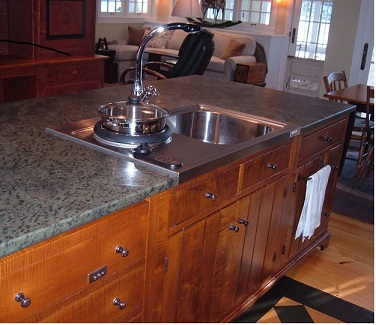 Let's compare kitchen faucets by looking at the styles and types of faucets most prevalent. The styles and features represented in today's kitchen faucets can serve as works of art against the backdrop of kitchen cabinets. They are not only functional with multiple features, but also a design statement and even a focal point of the kitchen. Some of the technological features available are pull out faucet heads, single lever kitchen faucets, wall mounted kitchen faucets(pot fillers) or retractable sprayers built into the spout, anti-scald and flow control devices as well as built in water purifiers to enhance taste.
Kitchen Faucets Parts
In choosing a high quality faucet make sure to inquire whether the parts are brass or solid brass which are corrosion resistant. When you compare kitchen faucets, it's a good idea to steer clear of faucets with pieces made of plastic as they won't last. Kitchen faucets with ceramic disc valves are a good choice due to their lifetime warranty. Finally, when you search for a faucet find one with washerless valving which is your guarantee of a high quality faucet which lasts longer and has less chance of breakage.

You may mix your spout type with any type of handle style. The handle styles available are gooseneck, arched, standard and pullout. Another convenient option is the pot filler or wall mounted faucet which is located next to a burner to aid in heavy lifting of a full stock pot. These require an extra cold water plumbing valve.
Review of Kitchen Faucets Styles
When you compare kitchen faucets here's a guide to determine which type of faucet to install in your home. The most popular choices available today are noted: Center Set Faucets: This style features two separate valves; hot and cold along with a spout. All three pieces are connected to one unit when installed. These are new traditional kitchen faucets.
Widespread Kitchen Faucet: Has a spout with two separate valves. The widespread faucet is one of the most popular choices today due to the faucet appearing to be three separate pieces.
Single Lever kitchen faucets: Includes a spout and solitary lever for one hand operation; also the best choice for those battling arthritis or carpel tunnel.
Below is a site carrying each of these types of faucets.
Different Styles of Kitchen Faucets
Materials of Unique Kitchen Faucets

The materials that faucets are composed of are endless. Compare kitchen faucets bronze, chrome and brass kitchen faucets,stainless steel kitchen faucets, pewter, nickel as well as oil rubbed bronze kitchen faucets are all popular choices. You may even be able to locate copper kitchen faucets to blend with the copper throughout your kitchen. Also new to the scene are enamel coated and white kitchen faucets and the kitchen faucets black in color. This is where you can really tie your style of kitchen cabinet design and appliances into the finish and style of your faucet.
A popular choice today for metal faucets are brushed or satin finish products due to the matte finish which is resistant to finger prints and water marks. This is always great for housekeepers who don't want to continuously wipe down their faucets. The vintage style kitchens really play up to the polished nickel and the oil rubbed bronze finish. If you are keeping with an reproduction or vintage look you can even find Victorian kitchen faucets. European Kitchen faucets or Italian kitchen faucets are also a way to showcase the style of your kitchen.
Compare Kitchen Faucets and Materials Resource