Kitchen Cabinet Organization Tips in Choosing Kitchen Pantry Cabinets
When determining kitchen cabinet organization, here is a checklist you can run through for help when choosing kitchen cabinets. 1) Ask yourself how much storage space you need. Do you regularly shop at Sam's or Cosco? If so choose ample kitchen storage cabinets, cabinet shelving and large kitchen pantry cabinets for your kitchen organization needs.


2) If remodeling, step into your current kitchen and determine what it is that you dislike and is an inconvenience. What kitchen cabinet design ideas could you implement to change this? Also pay close attention to the kitchen work triangle, does this layout fit your needs? If not come up with your own kitchen cabinet design wish list for items that you cannot live without.
3) Think of your current habits. Do you think recycling is valuable? Plan a 4 drawer base cabinet or slide out bins instead of cabinet shelving to store those recyclables in your kitchen cabinet. Organization of recyclables and trash bins in the pre-planning stage saves later steps out to the garage each time you need to dispose of trash.
Kitchen Cabinet Organization: Pull Out Recycle Bins

4) Which kitchen cabinet trends could not live without? Plan ahead for specialty appliances and materials such as a stainless steel cabinet design or warming drawers to implement into your kitchen cabinet design ideas. If you don't plan on staying in your home long term will the cost justify purchasing these by increasing the resale value of your home?
5) Do you regularly cook alone or do you commonly have other family members or friends over to share in the cooking experience? If so, you may want to consider the double L kitchen cabinet organization design which generously accommodates multiple cooks. If you entertain often but don't share cooking responsibilities consider a breakfast bar and barstools or an island so company can enjoy your kitchen cabinet decor while conversing.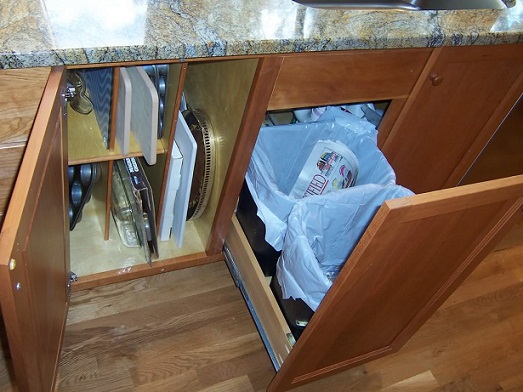 6) Does your kitchen regularly get cluttered with schedules,mail,bills etc? Unless you are creating a designated home office space outside the kitchen you may consider creating a message center or command central area built into one of your upper wall kitchen cabinets to conceal the clutter and aid in kitchen cabinet organization.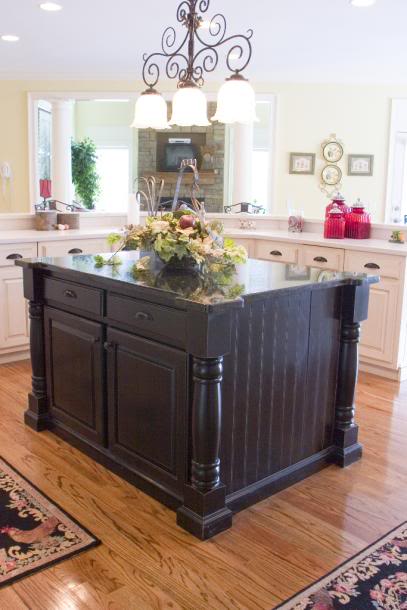 By implementing these ideas you should get a better feel for which storage options you need to consider in your kitchen pantry cabinets. A great resource for choosing home storage containers is:
Freestanding Recyling and Trash Receptacles