Incorporating Home Bar Ideas Into Your Plans
Looking for home bar ideas that are functional yet appealing to the eye? We have compiled the most common features of portable, tiki, as well as wet bar ideas into a planning guide for those interested in adding a bar to their home.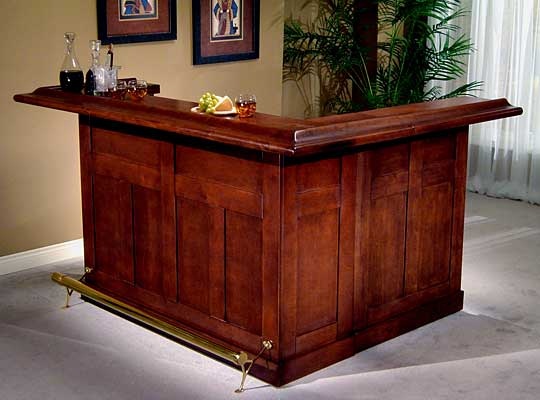 First, you will need to determine if your planning includes a portable bar or a stationary/fixed bar. The best way to start is by viewing multiple photos of different home bar ideas as well as visiting establishments to see different themes. This is the fun part of your homework! Think of your size requirements. How much space do you wish to devote to this bar area in your home? If you don't have much space don't fear, later we will discuss fold up options that can be collapsed and stored away when not in use. Building your own bar can be a fulfilling as well as cost effective venture. Ask yourself if you have basic woodworking skills and the time to commit to this project. Below are plans and materials for a DIY bar.
Home Bar Ideas: Quality Bar Plans for DIY'ers
Wet Bar Ideas
In determining which system you would like to incorporate into your home consider these points. An advantage of a stationary or wet bar includes the convenience of running water in a fixed sink so glassware and other barware can be washed conveniently as well as countertops wiped down easily. Another consideration would be to ask yourself whether you will need refrigeration to store bottles and drink ingredients nearby. Also determine if an ice machine-whether crushed or cubed is a dealbreaker for you. If you are into frozen drinks they are indispensible. When considering wet bar ideas you'll need to remember that these features require a permanent location for plumbing and electrical wiring purposes to run water lines or drainage pipes.
Wholesale Home Bar Equipment and Appliances
After you have determined the theme or style of bar you wish to create, sketch some rough blueprints of your home bar ideas to get an idea of what type of layout you desire. There are many different shapes to choose from: retangular, straight, horseshoe, L shape, corner as well as mini or portable bars. Each of these plans can be detailed to incorporate wet bar ideas into them. Make sure to include appliances such as ice machines or referigerations in your plans as well as sinks or wine coolers to determine placement of outlets. Will this be a sports bar where a T.V. screen or speakers are desired? Finally, in your wet bar ideas consider upright wall cabinets to store bottles behind the bar. These add class to a permanent location and obscure items you don't want to be left out. Glass inserts can be added to to some door frames as well as cabinet lighting to show off rare bottle or beautiful stemware.
Another consideration that must be included in your home bar design is whether you wish to add a neon light or clock as part of your decor. If you have a 'sports' theme, leave room for banners, posters etc that will be the focal point of the area. These would all change the positioning of cabinets or storage options behind the bar so it's best to include them in your plans from the beginning. Perhaps your plans include designing a pub style bar that remembles your favorite restaurant bar. Today, there are many home bar ideas for incorporating this choice into your plans. Is solid cherry or a solid oak bar a must in your dream bar? Maybe having brass foot rails is a necessity. Perhaps you are searching for a bar that will fit into a corner nook? The possibilities are endless and you should be able to get the type of design you are after with minimal effort. An important feature to consider is the height you'd like your bar to be. The height issue is important especially when incorporating wet bar ideas into your design theme. This would affect details such as placement of foot rails and bar stool height. Finally, consider such embellishments such as ornate trim around the bar area and whether you would like a wine rack built into your bar area- don't forget a wine cooler!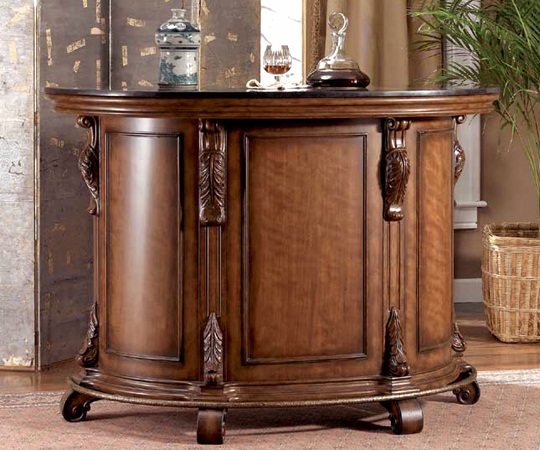 Portable Home Bar Ideas
Some of the benefits of a portable or party bar include the flexibility of moving the bar inside your home or even outdoors for parties. A portable home bar design can also be rolled away to a closet or starage room if it is not being used or even taken with you if you are moving to another home. Some home bar ideas can be considered even in a portable bar. The mini bar is smaller than most bars and is easily maneuvered which can be a plus for those who wish to move their bar frequently in the living space. Another suggestion for those wishing to take advantage of space issues is the swing open portable bar which can be folded down to a third the size it is when fully extended. This is a great feature for those wanting to conserve space who don't frequently use their bar and need the unused space.
Last but not least, the Tiki bar design is a very popular Polynesian themed area. The Tiki portable bar is a fun way to add a them area either outside your home or if you live in a cooler climate it can be brought indoors and enjoyed all winter long. One can find Tiki bars constructed from Bamboo and recreate the look and feel of beach setting. As you can see there are many options in home bar ideas. Locked liquor cabinets are another feature you may wish to consider if your bar will be in a home with children. To finish out your bar, don't forget to check out the link below for discount bar stools to add comfort and style to any setting. Swivel or stationary bar stools are both available for great prices online. Whether you choose the wet bar ideas offered above or prefer a portable bar design your home bar ideas should reflect your personality so you can ultimately unwind, relax and kick back with friends in your home bar.
High Quality Discount Bar Stools