Incorporating Mudroom Ideas
Homeowners often come up with mudroom ideas when they have maxed out their kitchen space. This option affords them more room to expand 'kitchen command central' in the home when they expand their kitchen space in this area of the house which can serve so many functions.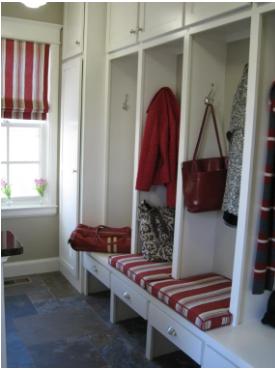 They are a great addition to the home of busy families. For those attempting to get organized, when clutter and disorganization seem to take over, there are many great products available for the kitchen, garage or closet that can be customized to fit in this room for organization purposes. This bonus room is a great addition and investment to any home due to it's 'catch all' appeal. The idea that washers and dryers can be easily incorporated into this space only adds additional bonus points to it's usefulness.
Many different items that don't necessarily fit into any other room of the house tend to end up being stored here. Hats, mittens, shoes and boots can easily be store in drawers that are snugly tucked under a bench. The bench can also double as a seat for those who need to sit to put on shoes or boots.
Mudroom Ideas: Storage Options
Borrowing from the kitchen look, hooks strategically placed around the room are not only attractive, especially when placed on bead board of a contrasting color, but are also completely functional. How many times will a kid coming home from school, enter through the mudroom and hang their jacket on a closet hanger? If they are like most, not often. Most kids however will utilize a hook that is conveniently located and doesn't require additional steps. So this is a great organizing idea in a mudroom. If incorporating cabinets into your room, it is also wise to find a cabinet design that holds up to alot of banging, scraping and general abuse due to the overall abuse and use this room gets. Cubby's are another great option for homes with small children(or even older children). These can be customized with names to encourage children to use them as well as add a design element to the space.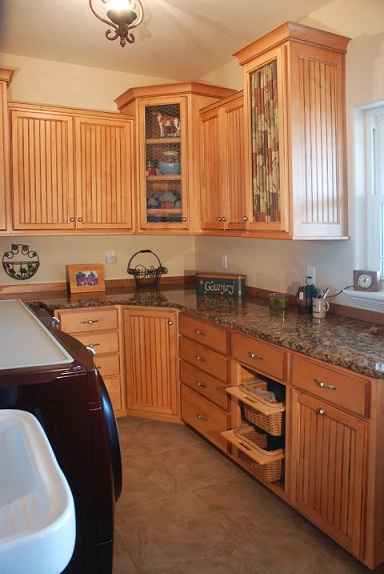 Easy to clean drawers or box style cabinets tend to be popular in this room as well as tall cabinets with adjustable storage (such as those found in walk-in closets). Another space saving option consists of a built in bench with underneath cabinet storage. This option is similar to the bench noted above with the exception of open storage underneath instead of drawers. The key to finding the best place for a mudroom is to locate it directly off the main entrance-way used by the family. Even a hallway niche that is accessed from the door can be outfitted as a mudroom and provide additional storage options. Above all else good mudroom ideas are about adding functional value to a home and making your life a little easier.