Cabinet Door Ideas:cabinet wood and hardware style, arched panel doors
More than likely you've checked out some cabinet door ideas in magazines when determining which style of cabinets to choose. There are basically two categories of cabinet doors to accent your kitchen cabinet decor. First is the traditional kitchen cabinet style of covering the front of each kitchen cabinet door with a wood frame. Just as a picture frame adds style and beauty to a picture, the face frame of a cabinet door can be ornate with overlays and multiple cabinet crown moldings.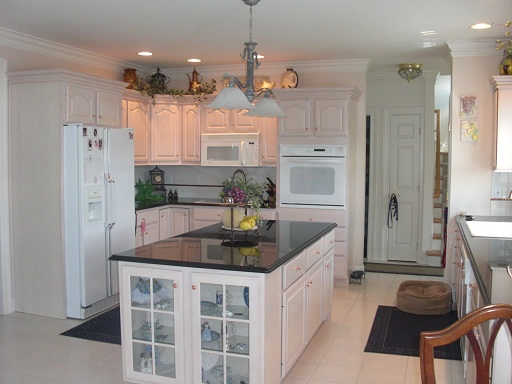 Or your kitchen cabinet door ideas may be low key and simple yet timeless using beautiful hickory kitchen cabinets with special mission style cabinet hardware and a traditional flat framed cabinet door face with the distinctive vertical wood strip on the cabinet doors. We recommend the site below that has a gorgeous selection of top quality cabinets with multiple door styles as well as many finishes. You may even order a single cabinet door sample to determine if these cabinets are right for you. Best of all, these cabinets are often 50% lower in price than those sold in the big box home stores. It is an editor's pick of a top quality cabinet store-click below to access it.
Ideas for determining if you desire a face frame cabinet can include those who are looking for a more traditional kitchen cabinet look. A full frame or divider strip of wood appears when two cabinet doors open to reveal one cabinet box. This center rail and full frame provides more stability and strength to wider cabinet boxes and secures cabinets adjacent to it.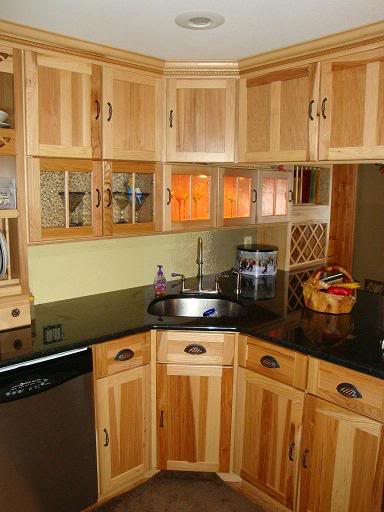 A benefit of the framed door cabinetry is that is conveys the look of built in custom cabinetry although it doesn't have to necessarily be associated with vintage or old fashioned styles. A drawback of framed cabinetry is that due to the center rail between cabinet doors, it prohibits the storage of bulky items on the cabinet shelves whereas the frameless cabinetry maximizes accessibility to all that is stored inside.


Contemporary Kitchen Cabinetry
The frameless kitchen cabinet doors are often referred to as European cabinets since they were invented in Europe after World War II. Some benefits of purchasing a frameless cabinet door: Ideas such as saving money on manufacturing costs with less wood cabinet making materials. Another benefit of choosing kitchen cabinets with frameless construction is that base cabinet drawer sizes as well as the opening size of the kitchen cabinet door are larger. Hardware styles are similar to those on framed cabinets, however they tend to lean towards the contemporary kitchen cabinets style.
Whichever cabinet door ideas you choose in frameless kitchen cabinetry you will always have the full overlay doors hinting more towards the contemporary kitchen cabinets design with their current, modern day styling. Some of the more common design features of frameless cabinets are: simple, contemporary kitchen cabinets with a sleek and clean look, no trim or cabinet crown molding, and often no ornamentation or overlays appear on the cabinet door. Ideas for this type of cabinet work well with the Art Deco or Arts and Crafts style kitchen.
Although door styles are usually strictly decorative they come in a plethora of choices. When choosing kitchen cabinets these are the most common cabinet door styles: flat arched panel doors, flat panel doors, bead board cabinets and panel doors, square raised panel doors, curved raised panel doors, cathedral panel and reveal overlay panel doors.