Kitchen lighting ideas that bring style and function to kitchen cabinetry
Kitchen lighting ideas that will help you organize the layout of your kitchen. Before beginning the purchase of light fixtures, first access the layout of the kitchen,color scheme and functionality. Ask yourself is your kitchen primarily an eat in kitchen, only a food prep area or both? Are you looking for cool areas with bright lighting as well as warm areas with a cozy atmosphere to sit and enjoy your morning coffee?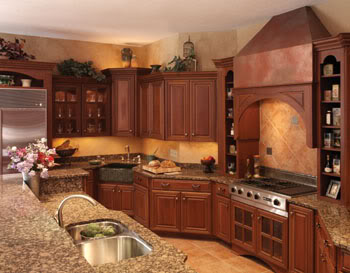 Kitchen lighting ideas abound from hidden under cabinet florescent lighting options, recessed lighting to glowing glass pendent lights that gracefully hang over kitchen island cabinetry. All kitchen lighting falls into three distinct categories: general, task and accent.
Choosing Suspension or Pendant Lighting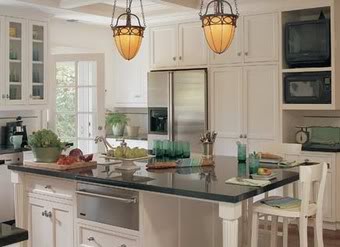 General or ambient kitchen lighting is the main lighting used in a kitchen. If a kitchen houses a dark cherry wood cabinet or deep dark painted walls, recessed lighting sprinkled throughout the ceiling is a great background source of lighting because it helps "lighten up" the room. If your kitchen is smaller, a large ceiling fixture should do the trick. Other kitchen lighting ideas revolve around natural light. Natural light provided by ceiling to counter picture windows or skylights will bathe a room in ambient light. A caveat- you will want to make sure to supplement with recessed lighting for kitchen use at night! One of the key problems with choosing lighting for a kitchen is the amount of shiny or reflective surfaces built into a kitchen. Tiled counter tops or solid surface counter tops, light color painted walls and stainless steel appliances all are reflective therefore require less intense lighting. Other kitchen cabinet lighting ideas concern the absorbency of light off of light colored cabinets or appliance surfaces. Keep in mind, dark paint colors on walls or deep colored kitchen cabinet surfaces are very absorbent and need more light. In most cases for general lighting you'll want 'diffused light' to solve your lighting problems. In accessing general lighting needs you'll need to consider the size of the room, the height of the ceilings as well as natural light from windows. Most often ambient lighting comes from more than one source.
Kitchen Lighting Ideas- High Quality Low Priced Kitchen Lighting
Task lighting is used as the name implies to light areas that are work surfaces. Its purpose is to create a safe, well-lit workspace without shadows for prepping foods and preparing meals. Often this is accomplished by using one or more adjustable fixtures. The most common task light is the recessed light, however pendent lights(otherwise known as kitchen island lighting) or under counter lighting can also work well. Among kitchen lighting ideas, one of the built in benefits of pendent lighting is the warm glow they cast over an area. One thing to keep in mind with task lighting is to make sure to incorporate several separate switches installed in order to turn off and on these lights without being in conjunction with the overall lighting of the room.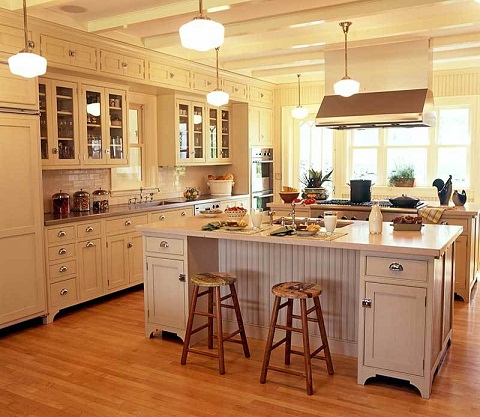 Kitchen Lighting Ideas- Recessed Lighting
Accent lighting is especially important to your kitchen cabinet design because it spotlights specific architectural features significant on your cabinets. Kitchen lighting ideas for accent lighting are that it can highlight glassware, pottery dishes or a collection of decorative objects stored in a lighted display cabinet. This really allows the homeowner to bring in their personality into the kitchen. One thing to keep in mind with accent lighting is to keep it simple. Only accent those items that are most important to you. One of the biggest mistakes of homeowners is overdone accent lighting because it causes the focus or spotlight of the kitchen to lose it's appeal.
Display Cabinet or Under Cabinet Lighting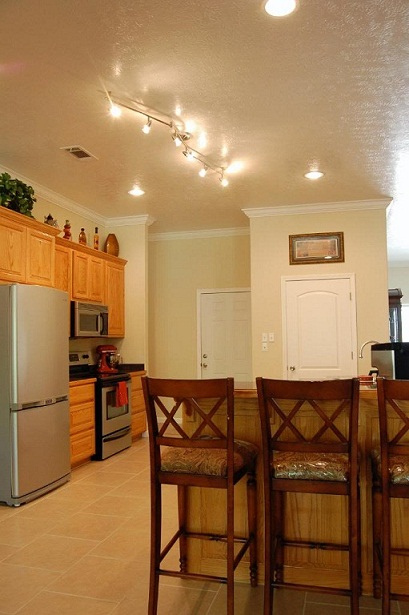 Above all else look at the overall them in your kitchen when checking out kitchen cabinet lighting ideas. If your kitchen cabinet style is rustic why not incorporate outdoor lanterns into spaces between cabinets to emphasize the design theme. This will bring in your sense of style while showing off the personality of the room. Make sure to choose lighting that you can live with 10 years down the road. While some contemporary lighting is at the height of fashion, it may be an eyesore later to prospective buyers of the house or become dated.